The company

Tondar Chatenet Ltd. specializes in recruitment processes for middle and top management positions. We also provide project-based support for HR development.
Our clients come from a range of business environments. Whether international companies, SMEs or start-ups, they all entrust us with their key business needs. We are experts at searching and selecting staff for executive and management positions. The knowledge and expertise we add draws on over 15 years of experience. These credentials directly benefit the career and business development of the companies and employees with whom we build up partnerships.
Our professional approach is of durable benefit to our clients and based on ethics, honesty and integrity.
We consider our clients and candidates to be genuine business partners and thus seek the solutions that best meet their current and future expectations.
We approach each recruitment process with the same diligence, tenacity and willingness to listen, combined with the utmost and consistent quality of research, regardless of the status of the position in question.
We aim to establish long-term business relationships and will support you throughout the recruitment process and tailored to your needs. We coach new employees at their new workplace and ensure their best possible integration once on the job.
Our team consists of academically trained consultants with professional industrial or economic managerial experience in Swiss and international companies, both within the private and the public sector. The specific networks available to us cover a range of regions and markets: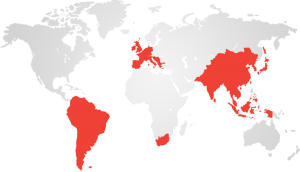 Our ultimate objective is to find that "rare gem" you are looking for and to become your partner of choice for developing sustainable HR strategies in the future.
Recruitment process

Our recruitment and assessment approach is based on a comprehensive understanding of our client's expectations and follows a 4-step approach.
We conduct a detailed analysis of the position in question and its requirements, of the company culture and its management and employees. We then draw up a search proposal and present it to our client for validation.
Our search is conducted through a direct "head hunting" process and via newspaper ads.
Once an appropriate selection has been made, we present a short-list of suitable candidates, individually assessing both their hard and soft skills.
We bring our expertise to the final decision and, upon employment, support the chosen candidate with workplace coaching.
The employment process is run under exclusive mandate and guaranteed for a length of time in line with the level of the position to be filled. We also commit ourselves to finding a replacement candidate for the same position at no extra cost if, for some reason, the chosen candidate needs to be replaced.
We seek the ideal candidate based on their skills, personality and compatibility with their prospective workplace. We examine in detail the relevant elements that ensure a candidate's integration in the existing team, their compatibility with their direct supervisor as well as their ability to identify with the company's philosophy and values. We carry your message to potential candidates, transmitting your image and making sure to positively reflect your corporate identity.